Hammock Beds for Dogs and Puppies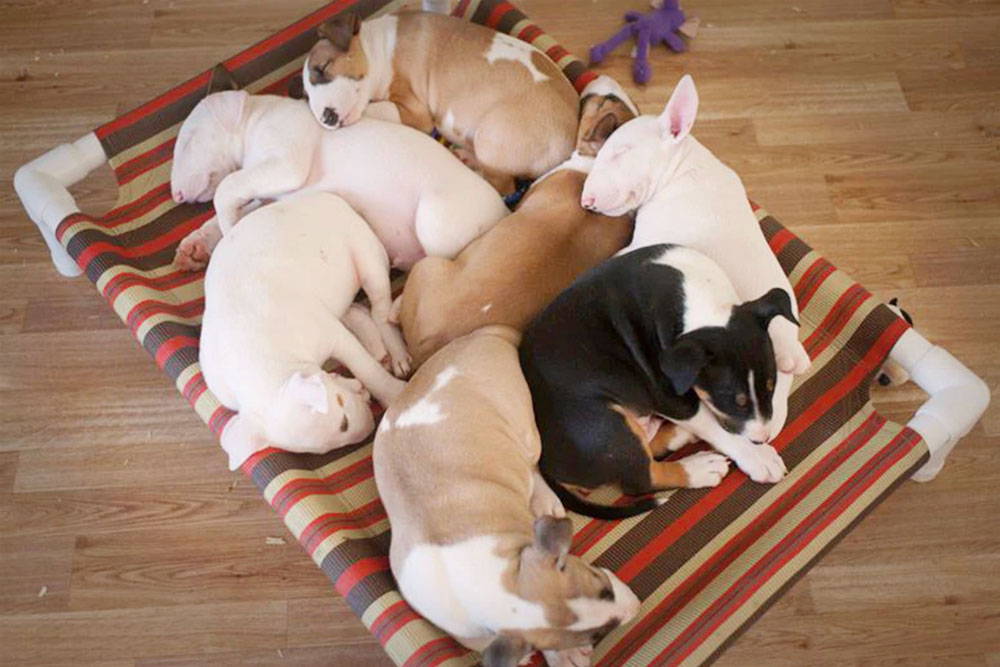 What follows is my personal review and opinion, after years of using different hammock beds. I do not receive remuneration of any kind for this review (see statement, below).
Why you need Hammock Beds for Your Puppies
Puppies love hammock beds. They make a cozy nest, and they keep the puppies clean and off the floor. I think puppies like the way they sink in the middle and give that "den" feeling. Hammock beds also make a great play fort, as you can see in this video:
The beds come in many sizes so here's a reference for you: 7-8 Bull Terrier puppies can comfortably fit in a 24x36 bed up to about 9 weeks of age. Although they inexplicably do like to jam themselves into small places...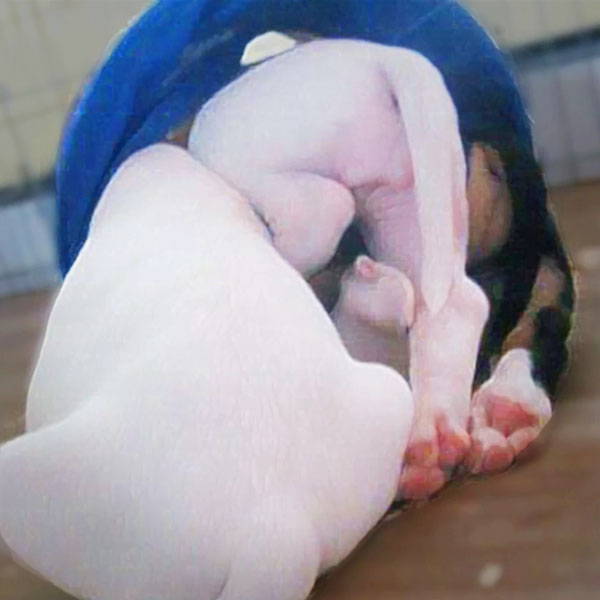 ... we still add a second bed when they start falling off the sides or they can't comfortably fit on it in one layer.
It's rare that you can unequivocally point to one product as winning on every point, but the hands down winner for us in every category are the Kuranda beds. Here are the points that keep Kuranda beds head and shoulders above the rest:
1. Hidden Edges on the Webbing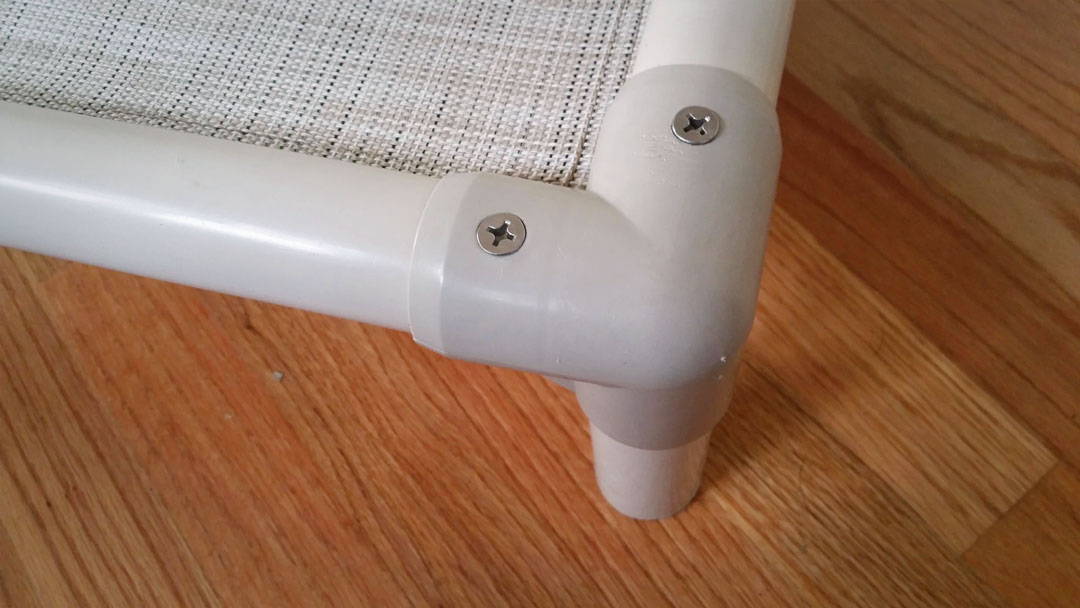 Kuranda has brilliantly hidden the webbing inside the PVC frame so there's nothing to chew. The puppies would love to destroy it, but their little mouths just can't get a purchase on anything. Sort of like the shark scene from James and the Giant Peach. You see a lot of furious activity but in the end the worst is a couple of scratches. Nice.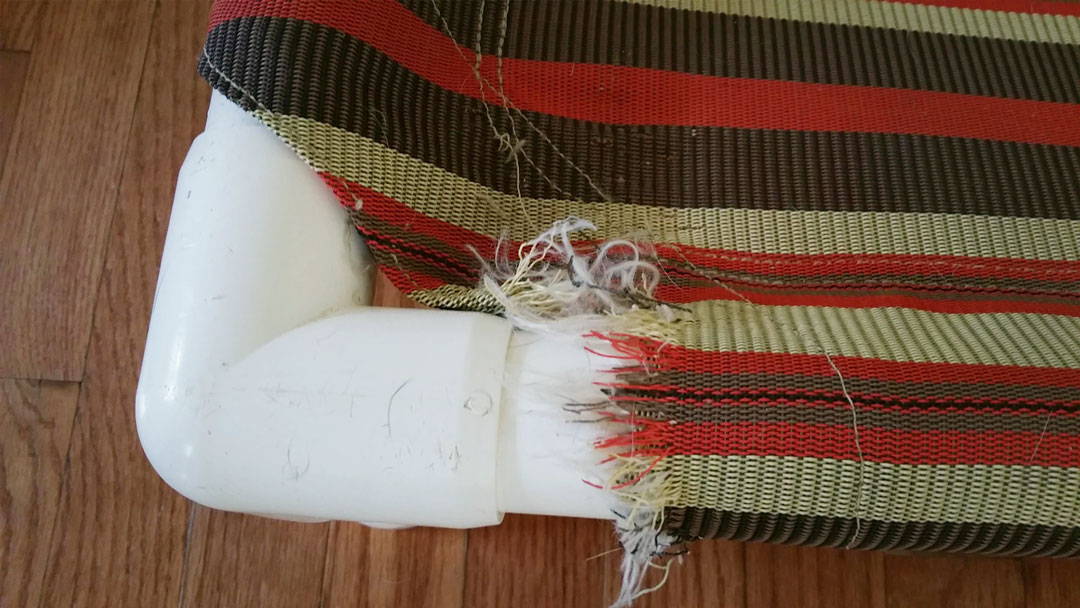 In contrast, here is a photo of the Max 200 bed we started with - this is the way the demise of the bed starts, and then it progresses rapidly to it being chewed in half with the puppies lying on the floor. We went through 5 or 6 of these very expensive (and incredibly difficult to put on) covers before we bought the Kurandas. Now we've had the Kurandas with their original covers for over three years. Amazing.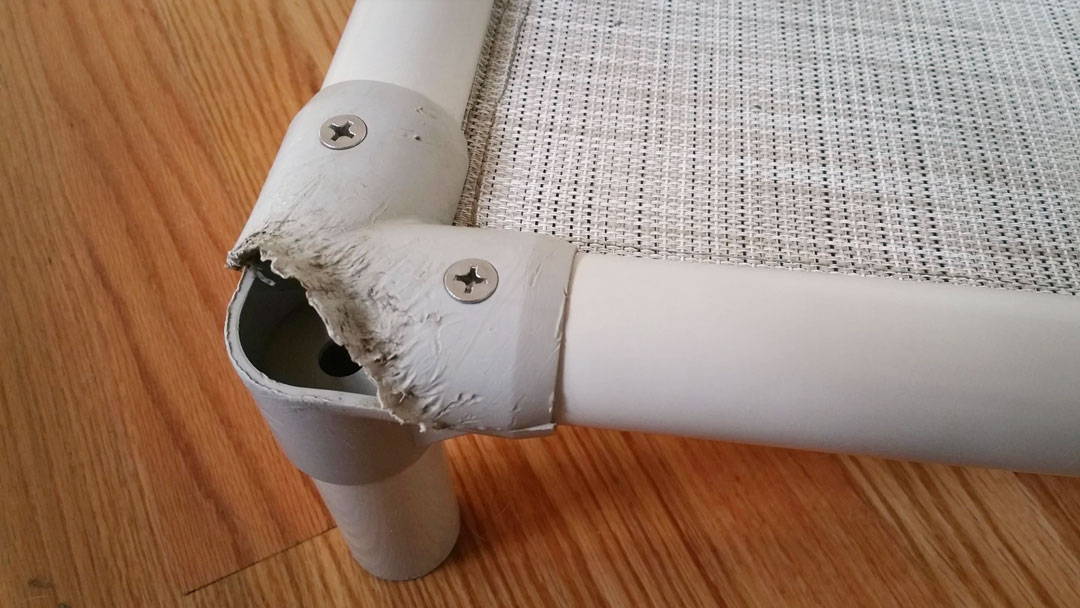 Even after three years, our expert adult chewers did not manage to completely destroy this bed that we keep on the back deck. And they really tried. (Update – that bed is now seven years old and still going strong with the original webbing)
3. Overall, Very Reasonable Price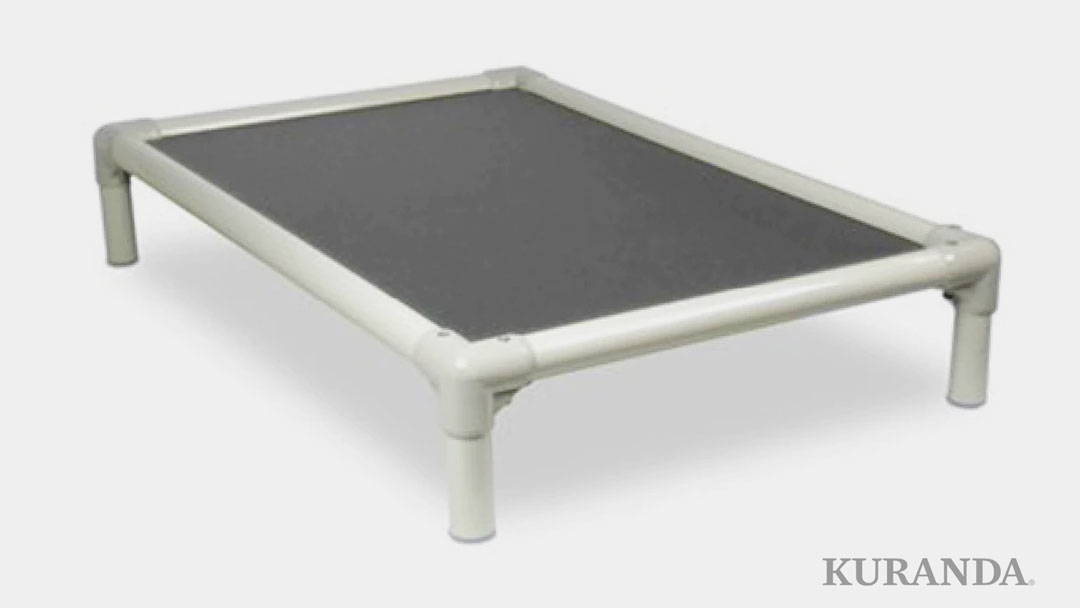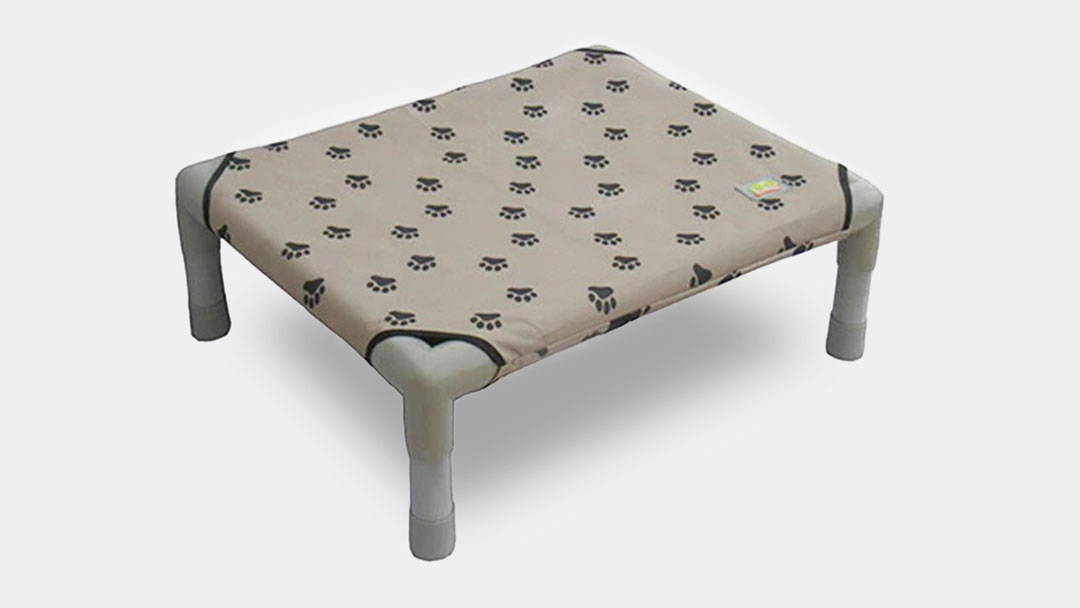 You can definitely find way cheaper hammock beds on Amazon, and if your budget is super tight and your puppies are not destructive, that might work out for you. However, none of the models on Amazon sell replacement covers (at least, I could not find any), and the cheapest replacement covers I could find are 40+ dollars for the 24 x 36 size. So, the price is really about the same, if you figure you will go through at least one cover per litter.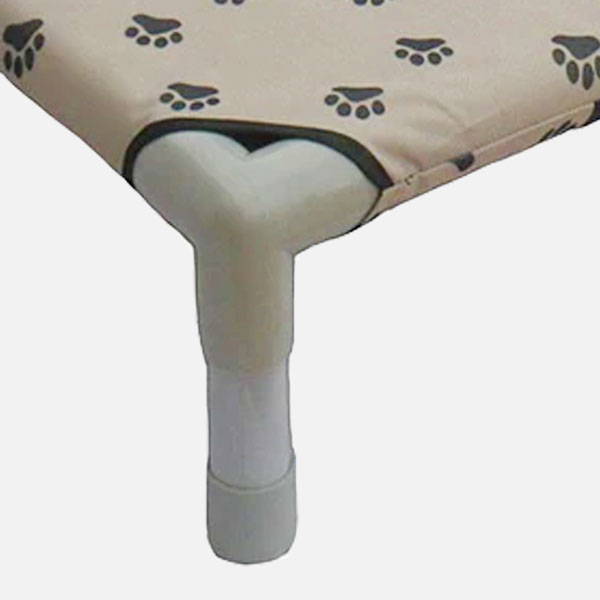 If your puppies are not self-contained-wrecking-units, the Amazon products might be a good deal, but I still don't like that little space where a leg could get jammed between the PVC and the webbing. Whatever you do, select one that has the edges of the webbing hidden in the frame.
Oh, and don't bother with the fleece covers. This photo was taken literally within one second of putting the covered bed in the weaning pen. Bull Terrier puppies are divining rods for the destroy-able portion of anything you put in their tank, I mean, pen. They don't even have to investigate the whole thing to find the part they can chew - the weak part of the item sends out some kind of signal to the litter and they go straight there. Your puppies may not be this efficient at destruction, in which case the covers are very nice.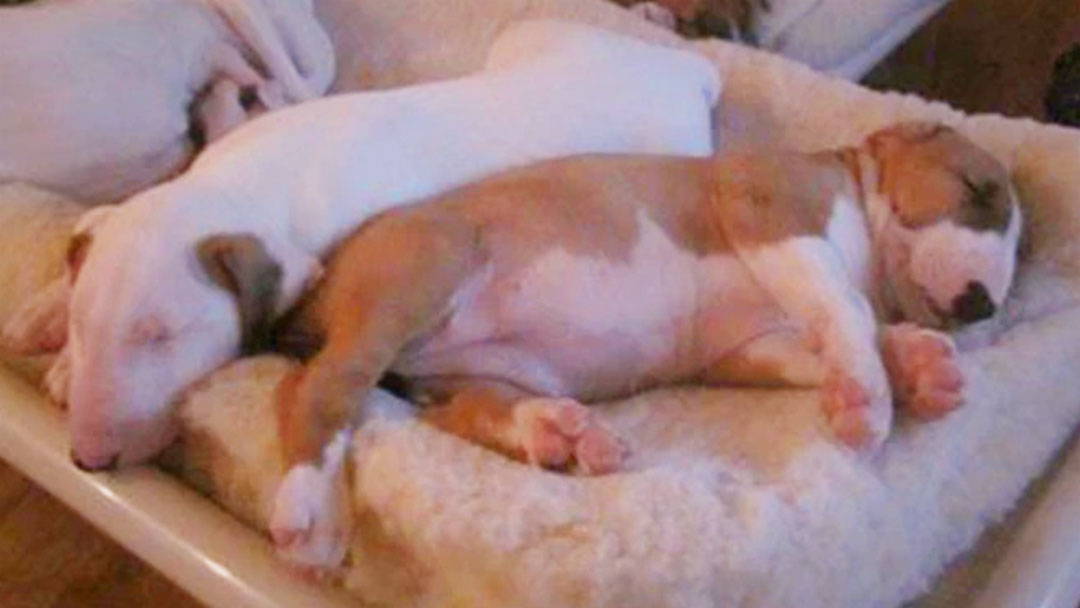 We got sick of replacing the fleece covers and now use nice fluffy double sided fleece beds, instead. They're stiff enough to lay flat and not ball up and they can't chew them.
I have found the Kuranda Standard PVC beds to be more than tough enough to stand up to my "Level Expert" destroyers. Kuranda does make an aluminum bed and I think a lot of shelters use that one because it's truly industrial strength (but also significantly more expensive.) I have not found the need to go there, and my dogs are pretty terrible.
I prefer the nylon webbing fabric to the solid vinyl covers – very easy to wash, cool outside as it allows airflow from underneath and has nice "give." And the fabric is beyond durable - my puppies and dogs literally use the beds like trampolines (my adults are 50-75 lbs). Even after 7 years of use, my first Kuranda bed is still in service with no damage, other than a little chewing on the corners of the frame, which has not affected the integrity of the bed at all. Oh, and I leave the bed outside on the deck literally all year and still it has not broken down.
In sum, puppies and dogs love hammock beds and the Kuranda has delivered unbelievable quality and durability for us over the years! Highly recommend.

Statement about the Unbiased Nature of this Review:
I do not accept free products for review from manufacturers, nor do I accept affiliate income from any products recommended.
We do not have any third-party advertisers on our site.
Some of the product links are for partner programs to benefit the Central New Jersey Bull Terrier Club and/or proceeds are donated to the club, but we do not personally receive any remuneration for these reviews.
Referenced Courses and Titles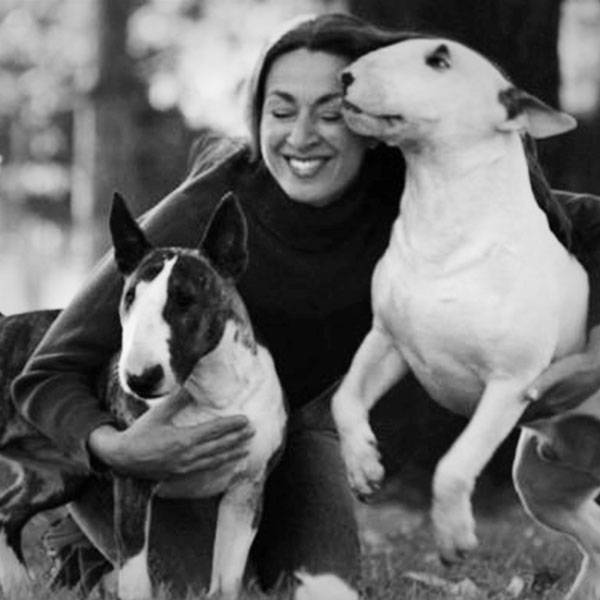 Jane Messineo Lindquist (Killion) is the director of "Puppy Culture the Powerful First Twelve Weeks That Can Shape Your Puppies' Future" as well as the author of "When Pigs Fly: Training Success With Impossible Dogs" and founder of Madcap University.
Jane has had Bull Terriers since 1982 and she and her husband, Mark Lindquist, breed Bull Terriers under the Madcap kennel name.
Her interests include dog shows, dog agility, gardening, and any cocktail that involves an infused simple syrup.
Would you like us to email you occasionally with Madcap University news?